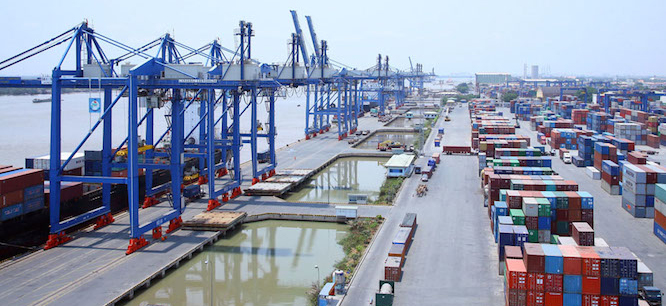 13 /102016
HCM City Inaugurated 'Terminal Extension' Of Cat Lai Port , VietNam.
Tan Cang - Hiep Phuoc Port (Nha Be District) with a total investment of 1,500 billion VND will "divide the fire" to Cat Lai Port that has been overloaded due to the 85% of goods in HCMC area.In the morning of September 5, Tan Cang - Hiep Phuoc Port was inaugurated after 2 years of construction. It is considered a "terminal extension" of Cat Lai Port under the management, administration of the service organization, operation of the system, the direct policies of the Saigon Newport Corporation.
Tan Cang - Hiep Phuoc Port has 420 m jetty, receiving vessels of 50,000 to 70,000 tons. Besides, there include 253 m barge receiving the barges of 2,000 tons, 17 hectares freight ground, 34 tractors and many other specialized equipments. The Port has a total output converted of approximately 9 million tons per year.
At the opening ceremony, Deputy Minister of Transport Nguyen Van Cong noted, after the operation of Tan Cang - Hiep Phuoc Port, Saigon Newport Corporation needs to allocate the import or export of goods between ports reasonably. It avoids focusing on the present Cat Lai Port because the traffic leading to the Port has the signs of traffic jams. In 2014, the cargo volume through Cat Lai Port was accounted for nearly half the country.
According to Saigon Newport Corporation, the application of Hiep Phuoc Port in the tonnage segment of 50,000-70,000 tones on Soai Rap estuary is an important connecting station for commodity among the intra-Asian countries. The Port helps reduce the transition time for carriers of goods, while cutting costs as well as the freight time by stopping and unloading at the Port through Soai Rap estuary.
Cat Lai Port, with 85% of the goods that have passed in HCMC so often fell into serious jam stagnant, especially in the holidays, Tet holiday that make it difficult for businesses. Not only inside the port, but also the routes around Dong Van Cong Street, Hanoi Highway, Nguyen Thi Dinh Street, the East Belt is also frequently jammed. Therefore, the operation of Tan Cang - Hiep Phuoc will help reduce the load for the Cat Lai Port and also decrease the congestion of the traffic in the surrounding roads.